Commence gushing in 5...4...3...2....1
I AM IN LOVE WITH STACIA KANE!!!
If I were ever lucky enough to meet her I imagine it would go something like this:
Stacia: "Hello"
Me: "Heeheeheehee"
Stacia: "What's wrong with you?"
And it would go downhill from there.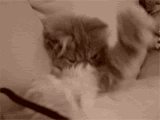 Ms. Kane has done it again with Sacrificial Magic. Creating a world that is gritty, ugly, dirty, exciting and as always, riveting.
After discovering a gruesome murder/sacrifice of one of his employees, Bump asks/orders Chess to use her powers as a witch to figure out who has done this (Slobag?).
Before I continue I feel I must give Bump credit for contributing the following lines to the book which were at the very least, genius!:
"What knowledge you fuckin given Bump on the now-time? New shit, fuckin hopin so. yay? Something on the fuckin use-type side, get that fuckin scum Slobag down."
And my personal favorite,
"Now mayhap you quit givin Terrible the fuckin slurpy-eyes an give Bump the listening,yay?"
My secret hope is that Ms. Kane will someday write a spin-off series done completely in Downspeak and starring Bump.
Back to the story.........as always, Chess continues to be her own worst enemy. With the development of her blossoming relationship with Terrible, her insecurities and self-hatred are in full bloom. At times she comes so close to completely spiraling out of control it is physically painful to read. She cannot accept that she is deserving of happiness or of Terrible's love. She's convinced that it is a matter of time before he figures all of this out and dumps her for good. Ms. Kane has created one of the most unique and sweet love stories in these two. There is a song from Patti Smith called "Dancing Barefoot" that always plays in my head when these two are together. The following lines are perfect:
she is benediction
she is addicted to thee
she is the root connection
she is connecting with he

here I go and I don't know why
I fell so ceaselessly
could it be he's taking over me...

I'm dancing barefoot
heading for a spin
some strange music draws me in
makes me come on like some heroine

she is sublimation
she is the essence of thee
she is concentrating on
he, who is chosen by she
Take a listen for those who aren't familiar with Patti Smith and imagine this playing in the background while they're messing around on Chess's new couch!;)
http://www.youtube.com/watch?v=gcbuG2w0Kzo
Terrible continues to be imperfectly perfect in every way. Just when you think you could not possibly love him more he says something like this:
"Love you, too, Chess." He held her tighter, almost as tightly as she held him. If she had fingernails to dig into him she would have, hooks to catch him with and never let go. "You got that, aye? Ain't you know it? Love you right, til it hurts. Ain't goin nowhere, don't need to cry, 'sall right up-"
Fuuuuuuuccckkkkkkk! *stares dreamily at the ceiling*
Going in I didn't think Ms. Kane could top City of Ghosts but she has definately done it with SM. I was sucked in from the first page and felt like her emotional punching bag when I was done. Just like I like it !